Dresses and Suits and Dancing, oh my! Sounds like AFDC Grants' Fancy Pants Dance Party!
Howdy folks! Fall league ultimate is upon us and I want to take this time to first respectfully disagree with McCargo. I <3 Goalty as much as the next guy, but I'm all about Ultimate, … More »
Ultimate Pizza Night! – Fund-Raiser for AFDC Youth Club Championship Teams
AFDC Grants is providing grants for up to $50 to help youth and college ultimate athletes attend fitness/skills clinics or join leagues for Fall 2015. Grants will be paid directly to the camp or league of each recipient's choice and will be applied to admission/membership fees.
Want to see how SotG and high-level competition go hand-in-hand? Riot stars speak on how giving and receiving critiques in Spirit Circles has elevated their game at the 2014 Worlds Spirit of the Game Conference in Lecco.
It's time! As part of the AFDC's ongoing commitment to fostering SotG, we're starting a full Spirit Ranking system (including Spirit Awards!) for regular season, MST, and EOST.
With Spring League EOS and the Hustle's home opener rapidly approaching, it's time to polish our wit and prepare our best heckling game! But when does heckling cross the line from delightful bonding to destructive taunting?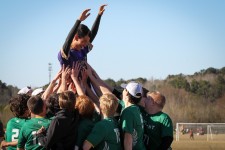 It's Spring League time, and Spirit Circles are here! Spirit Circles promote the growth of the Spirit of the Game by giving each team a chance to reflect on their match. But what is Spirit of the Game? It might not … More »
The AFDC is proud to announce that we have renewed our partnership with Spin Ultimate.