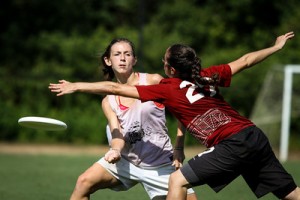 Want to see how SotG and high-level competition go hand-in-hand? Riot stars speak on how giving and receiving critiques in Spirit Circles has elevated their game at the 2014 Worlds Spirit of the Game Conference in Lecco.
It's pretty intuitive that joining arms, applauding each other, and remembering the good things about a game would bring players of both teams closer together. If a team is willing to listen and engage in some self-reflection, Spirit Circles can also have a big impact when things go wrong, too. Riot World Champions Kate Kingery, Alyssa Weatherford, Gwen Ambler, and Rohre Titcomb discuss how their surprise at being given low spirit scores led to a renewed focus on the fundamentals of SotG. Check out their panel, part of a six-part series that Skyd and WFDF will be releasing over the coming months.
One of their biggest insights is that how you communicate matters enormously. It's possible to respectfully disagree without tanking the game's spirit. Foul calls will happen, and sometimes a contested foul will be the best possible outcome. As long as the discussion stays calm, remains with the players involved, and is resolved in a timely manner, that's ok! Spirit doesn't mean that everyone has to agree all the time; it means that we respect our opponent's perspectives and recognize that we can be mistaken sometimes, too.
On the practical side, Kate Kingery and Alyssa Weatherford present a mock Spirit Circle discussion that gives a great model for how to respectfully communicate about things that did not go well in a game, even within a short time frame. Check it out at 7:45 in the panel.
Photo by Christina Schmidt