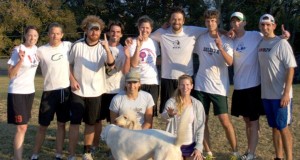 Congrats to the Bitches for their EOST championship over the previously undefeated Peach Pit.
pictured: Nat and Tom Street, Paul Brett, Chris Stewart, Kirsten Winder, Andy Nix, Kevin Brown, BenH2o, John Boezi, Tara Mostowy, Jessica Wackerman, Dexter and Titan.
Depth and grit carried Shannen Doherty is a colossal b!@#h to a fall goalty championship over The Peach Pit in an ugly 5 game match. The Pit was lacking in numbers and many of them were suffering cramps after a long day at the fields.  The bitches overcame noTORIous in the semi's while The Peach Pit knocked off McKay Motorcycle Club.