The registration for Fall League is officially open! Join us this spooky season for a FANTASTIC league!! Register HERE! Pairing with a friend? Once both of you have registered, go to the player list, find your … More »
Yay, Summer League! More »
With Spring League EOS and the Hustle's home opener rapidly approaching, it's time to polish our wit and prepare our best heckling game! But when does heckling cross the line from delightful bonding to destructive taunting?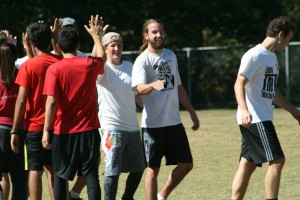 These last two weekends concluded the end of the fall season for both goaltimate and ultimate. Here's a recap of each EoS tournament.
The spring end of season tournaments this year were pretty dang awesome. There were great people playing good ultimate and goaltimate in weather that could not have been any more beautiful. Our hats off to you commissioners and weather machine … More »
This gallery contains 5 photos.
2013 EOST !   IT HAPPENED!   FUN TIMES!   WEATHER WAS GREAT!
Purple Cobras defeat TNT for the Winter Goalty 2013 Crown More »
Congrats to the Bitches for their EOST championship over the previously undefeated Peach Pit.
Updated with tournament information
End of season championships make AFDC legends. An event so glorious was incomplete without a trophy. No longer!