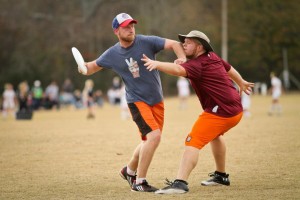 Hi everyone! We're already into February which means Spring League is closer than you think. Haven't gotten enough ultimate during the winter? Looking for a way to get back into shape for Summer League? Want to hang out with a bunch of awesome people on Saturdays? Then this is the league for you! Continue reading for details.
Important dates for players:
Registration: February 25th (Noon) – March 8th *Note – There is a possibility of a wait list
Regular Season: March 16th – May 4th
End of Season Tournament – May 11th
Cost will be $45 <– $5 less than last year!
Games:
Time: 10 – 1 Saturday morning
Will be played at Georgia Soccer Park and probably Boulevard Crossing.
Two Games each Saturday, 1 hour and 30 minutes per game
Information for Captains:
Based on past numbers I'd like to get to 12 captains. Teams will be limited based on the number of women who sign up.
We are going to have cores again this year. You need 5 guys and 3 girls for your core. Your core total must not exceed 43 points. If you are interested in captaining please let me know Sean Finlay. If you have a team name and your core already please let me know so I can note the name and review the cores. I will need cores by the 22nd of February for review.
Assume the Draft will be the Sunday before the regular season starts. So tentatively Sunday, March 10th around 6 or 7. Location TBD.
Please feel free to email me if you have any questions at all. I hope everyone is as excited as I am for a lot of fun during the spring!
Captains List Thus Far:
1. Amy Salley
2. Sean Finlay – Whiskey Slap
3. Mati Chessin – Communist Bananafesto
4. Brandon Welch/Ariel Stavitsky
5. Rich Johnston
6. Rob Bobowski/Thomas Apsey
7. Tyler Preston/?