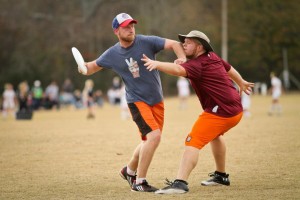 Fall Ultimate is right around the corner.  Get out and play in the mornings to burn off the beer and wings you will be munching on while watching football in the afternoon. We will be playing Saturday mornings from 10:00 am  to 1:00 pm at Boulevard Crossing during the regular season.  We will be using GSP for EOST on November 9th.
SIGN UP!
Important Information:
Registration – Monday, August 26th – Tuesday, September 3rd (opens at noon, closes at midnight)
Draft – September 8
League Play – September 14th thru November 2nd
Regular Season at Boulevard Crossing (10:00 am – 1:00 pm)
EOS at GSP – Saturday, November 9th
Registration fee – $45
Captains:
We need a couple more volunteers of male/female captain pairs.  All other players will be in the draft.  If you are interested in being a captain please let Rob Bobowski (rob.bobowski@gmail.com) know. If you've never captained before, fall is a great time to learn.
If you have any questions, don't hesitate to ask.
Rob Bobowski, Fall Ultimate Commish