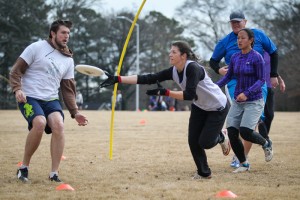 Do you feel shy or awkward in public? Do you suffer feelings of inadequacy? Do you sometimes wish you were more assertive?  Then Winter Goalty may be right for you.
Winter Goalty is the safe, natural way to start feeling better and more confident about yourself and your actions.  So, what are you waiting for?  Stop hiding and start living…by signing up for Winter Goalty.
Check out the tentative details below.  Updates will be added to this page as needed.
WINTER GOALTY 2016 DETAILS
Regular Season Dates: Saturdays beginning January 9th through February 27th
End of Season Date: Saturday March 5th
Location: Grant Park (note: dogs are not allowed within the fenced area of the field.  Please make other arrangements.)
Times: Two separate rounds at 11 am and 1:30 pm — team schedules will vary week to week.
Format: Two matches (best of 3) each Saturday (you'll play two different teams each Saturday)
Cost: $50
Registration: Opens December 14th at noon.

Registration will be limited based on the number of cores that form.  So, if it's absolutely important that you play goalty this winter, make sure you get on a core or you sign up as soon as registration opens.
Registration will be a two-step process — (1) register first and then (2) pay once accepted into the league (within the allotted 48 hr payment window).
CORE INFORMATION (not currently accepting new cores)
5 person cores consisting of 3 men and 2 women (no alternate arrangements allowed)
28 point core total (men 0-9 scale/women 0-6 scale)
20 point total for men
Cores must be submitted to me by December 7th

Cores are subject to review by captains
Draft Date: Monday January 4th
Questions, comments, freakouts….email me at cuschmidt@gmail.com.
I heart Goalty.
Christina Schmidt, Goalty Commish
Photo by Christina Schmidt.