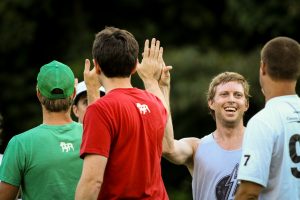 Just like last year, women will have tiered registration in an attempt to encourage early registration and help us ensure that there are enough women for the league. Ladies, you are very important. Sign up! Early registration starts soon!
Ladies Tiered Registration
Date           Price
4/12-4/18   $99
4/19-4/25   $105
4/26-5/6     $110
Register at: https://leagues.afdc.com/leagues
Men's registration will begin on 4/26 at noon and run through 5/6. The price will be $110. The open registration will fill up in less than an hour. Men, get on a core!
Cores will be due on 4/28. In early May, every player on a core (as well as all women) will be activated into the league, regardless of registration timestamp. Men not on a core will be activated based on registration time stamp.
Technical note: registration is now a 2 part process to avoid the paypal bottleneck. You will register, then, if you're approved for the league, you'll get an email with details on how to pay. You'll have 48 hours to do so or you'll lose your spot. More details can be found on the league page.
You should update your profile BEFORE registration, especially if you're trying to get into one of the free agent male openings. You'll be prompted to enter your REAL date of birth, for insurance purposes AND re-do your GRank before you're allowed to register otherwise. While you're doing that, make sure the email address associated with your registration account is one you monitor regularly so you don't miss the pay now email!
Cores due 4/28.
Captains party will be ~5/16.
The draft will be ~5/23.
You will play frisbee on 5/30.
Photos taken by Christina Schmidt for UltiPhotos.com