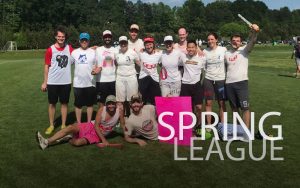 Spring Ultimate League: March 12 – April 30 | EOST (hat) May 7
Details and Registration Information
It has been 2 years since I had to tell everyone to hang up their cleats for the season due to Covid and it killed me to do it. Now, it is starting to look safer out there, so it is time to come out of hibernation and play some Ultimate again! 
Mixed 5/2 or 4/3, and other items will be decided based on the number of people who sign up, so SIGN UP EARLY!  If you are interested in captaining a team, let me know. There are still captain spots available.  A new twist we are trying this year is a Hat Tournament instead of EoST to have more mixing and mingling of people in the AFDC. Come make a new friend! 
We will be having Spring League Ultimate this year. YAY!
Regular Season: Saturdays, March 12 – April 30 (10:00-1:00).  Field locations are Benteen Park, Boulevard Crossing (lower), and Grant Park.
EOST Hat Tournament: May 7th at Grant Park.
Registration fee: $60
COVID POLICY: FULLY VACCINATED
You must be fully vaccinated with boosters in order to play or attend.  Boosters must be taken before 2/25/2022.  Upload your COVID Vaccination Card here: leagues.afdc.com/covid
Anyone who does not submit a vaccination card will be removed from the league before teams are picked – they will not be drafted.  
Registration Opens THIS MONDAY 2/7/22
I have missed you all so much and I cannot wait for a chance for us all to come together, enjoy time with our friends, and play some Ultimate.
Be safe, check and make sure you gear still works (might need some new turfs/cleats), go out for a pre-season jog, and get ready to get back to the best sport ever!
<3,
T$