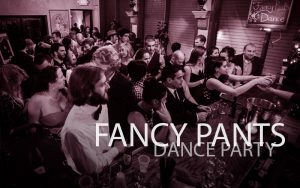 In addition to the 12 Days Hat Tournament… We're excited to bring back the fanciest pantsiest party for ultimate players in Atlanta. That's right – Fancy Pants will be happening as well! So get ready to shake your groove thang with your frisbee peeps, and support youth and college ultimate while you're at it.
Participants in 12 days will get a discount on their Fancy Pants ticket!
The Deets:
Tickets are now available!
When: December 17th, 8:00pm – 12:00am
Where: Fire Maker Brewing Company

975 Chattahoochee Ave NW, Atlanta, GA 30318

Attire: Black tie or dressed-up hipster — ya know, fancy pants!
Admission: $50 advance / $55 door / $35 12 Days of Christmas participant
A silent auction will be held – bring cash!

Youth Donation Drive will be present so bring old jerseys, frisbees, etc.
This year the party will be held at Fire Maker Brewing Company's beer garden and beer hall! We will have firepits, a smore station, a DJ and dance floor, beer and cocktails, and outdoor games like corn hole and can jam!
We will also have a photo booth for you to make memories with your friends!
Why should you buy tickets you ask? Because all the proceeds made from this event goes directly to AFDC Grants, an awesome organization to help the youth of Atlanta play this sport we all love so much!
We are also looking for volunteers to help at the party and 12 Days. Individuals who volunteer a minimum an hour will receive a discount on the ticket price. If you have anything that you might be willing to donate to our Silent Auction (including artwork/photography, business services, etc.), please reach out to us at juane.schoeman@afdc.com
Silent Auction Items
Item
Description
Spin Sun Hoodie
Spin Swag Bag
Disc, hat, and neckie
Atlanta Soul Bundle
Dark jersey, hat, and gloves. All size medium. Bonus disc included.
Atlanta Hustle Ambassador Pass
Free registration to the ATL Hustle's disc golf tournament in January (Ice in my Chains)
Registration to Atlanta Hustle's 2023 tryouts
Disc golf starter kits from DiscStore
Gift set from Aluma Farm

Farm

grown herbal teas and spice salts.

FiNCA TO FiLTER gift card

Good for coffee, merch, and goodies at any of their locations.
Monday Night Garage gift cards
Gift certificate for a free dozen from Kupcakerie
Fire Maker Brewing Company gift set
Tank, cup, koozies, pins, dragon beer opener, and stickers. All in a sling bag.
Free guaranteed summer league registration
No need to worry about summer league spots filling up because your spot is set!
Hand-made baby toy rattles
Disc Bundle
Three discs from various tournaments.
Two mystery discs with local art
U.S. Nationals Team Bundle
Nationals Team reversible and disc

Kitchen

 bundle
Microwave (good condition, in original box), rolling

kitchen

cart, and 10″ Cast Iron pan
All inclusive hunting trip(s) from Charity Safaris
All inclusive hunting trip to either New Zealand, South Africa, or Argentina for 4 hunters
See you on the dance floor!