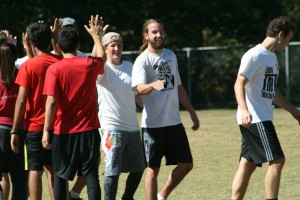 These last two weekends concluded the end of the fall season for both goaltimate and ultimate. Here's a recap of each EoS tournament.
Fall Goalty EoS
One only had to look at the cores to see that this Fall Goalty season was going to be a very competitive one. The top three teams were all neck and neck throughout the regular season. With only one match separating the first place team from the third place team, everyone was expecting a showdown between Gwinner, S. Puss, and Players Gonna Play, Play, Play, Play, Play, but as often the case, EoS told a different story.
After struggling through the regular season, Team Williams finally found their stride at EoS. Quick subbing along with experienced players supported by raw athleticism, and not to mention the dreaded Brian/Kathryn duo and the pickup of Miranda Knowles, were all factors that lead this team to face off against a very strong Players Gonna Play, Play, Play, Play, Play in the finals.
It was a hard fought match. In a race to three, Team Williams went up 2-0 on Players Gonna Play, making everyone believe this was going to be short match. Players Gonna Play had different plans in mind though. Theo Beck, Marc Seto, and Sean Finlay were hard to stop once they started going in the third game, taking that game and the next to even out the match at 2-2. Both teams were getting tired, but it was Players Gonna Play's lack of subs that really took its toll in that 5th game and then a two pointer shot sealed the game at 3-5.
Congratulations and shout outs go out to Team Williams for winning EoS, Players Gonna Play for a taking second, and Holly Symolon for running a great league!
Fall League EoS
Ten teams went into Fall League EoS, only one team came out… alive. And by alive, I mean victorious. Maybe it was the girl in a tutu passing out hot chocolate, maybe it was Neel Kotra's sunny disposition, but despite the almost freezing temperatures at the start of the morning, spirits (of all kinds) were high this breezy Saturday morning.
Sad to say though, nothing exciting happened during pool play and the two teams we all expected to make it to the finals did in indeed make it to the finals. It was apparent from the start of the season that The Anti-dentites were going to be a tough matchup for anyone. Coming into the tournament they were missing key players like Tom Morris and Jacob Zirbel, and they still ended up winning the gold with a 13-9 win over Plastics in the finals. Don't worry Sean, there's always next year.
Alicia, you make this too easy.
Huge thanks to all the players and captains, all of which are what make Fall League such a fun time. Special thanks to Neel Kotra for commissioning, especially since this was his first year.
This may be the last ultimate league until the spring, but there's still AFDC ultimate to be had! 12 Days of Christmas is coming up on December 13-14. Also be sure to check out Winter Goalty, of which you can find all the information here: https://www.afdc.com/2014/11/2015-winter-goalty/