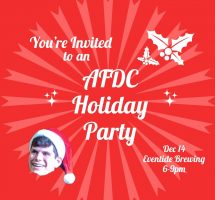 We invite everyone to join us for an AFDC Holiday Party next Saturday, Dec 14 at Eventide Brewing from 6-9pm! The event is FREE and open to all members of the Atlanta ultimate community (all ages welcome). Thank you for a great year and we look forward to many more!
We'll have space at Eventide Brewing for a silent auction benefiting AFDC Grants, non alcoholic drinks and light snacks. The first 50 to arrive will receive a free beer on us (age permitting) & if you volunteered for AFDC or AFDC Juniors this year, we'll have a beer waiting for you too. Holiday festive wear strongly encouraged!
Atlanta has a lot to celebrate in 2020:
The first Color of Ultimate: ATL game
Brand new leagues in Cobb County
More club teams than ever before
A new pick up list option for Summer League
10+ year-round leagues & tournaments for adult players
The retirement of two legends – George Li, AFDC Juniors Director / founder & Barry Clark, long-time TD of Club Terminus
A new committee & board seat – Project Diversity
22 High School and 9 Middle School teams
Continued youth development with Learn to Play, GUM, and coaching clinics
The return of 12 Days after a few unfortunate rain-outs (knock on wood)
2 Professional ultimate teams – Atlanta Hustle & Atlanta Soul and the inaugural season of the Professional Ultimate League started by Atlantans Maddy Frey & Angela Lin!
National appearances by Grady HS Varsity Boys, Atlanta Ozone, and Chain Lightning
Girlty!